Dear Friends of the Mordecai Project:
More than 12 years ago I met a young Russian immigrant named Alex Novik. I began mentoring him and he introduced me to Slavic culture, Russian food and a wonderful Russian Pentecostal church in Philadelphia called Word of Life. He eventually introduced me to another young Slavic guy from his church, Alex Ankudovich. These two young men became like sons to me. You can see them in the photo below.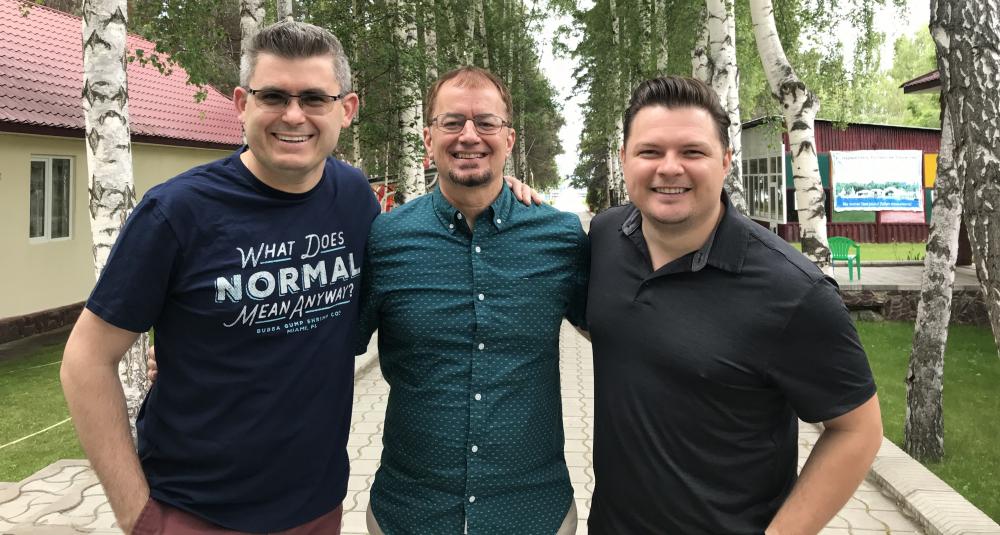 Alex and Alex came to many of our Bold Venture discipleship events. At one of those I met a journalist from Kyrgystan named Ulan Karypov. He had come to the United States with his wife, Asil, seeking religious asylum. They were given that protection but they carried in their hearts a burden to reach the region of the world where they came from. As a result of their prayers and Ulan's work with a radio ministry, God opened a door for us to make a trip to Central Asia together in 2018. It was so successful that we just completed our second trip there this month. You can see Ulan and Asil below.
We ended up with a great team for this trip. As you can see below, there were 10 of us, and everyone but me speaks Russian! That means I always had great translators. All of these people are from Word of Life Church. We spent two weeks in two countries, and we did conferences for men, women, youth and pastors. We did 31 meetings total, so the schedule was rigorous, and by the end of the trip we were all exhausted. But God did so much!
In this region of the world the men have been very harsh and dominant, and the abuse of women has been horrific. I was so glad we had three Russian-speaking women on our team so they could offer prayer and counseling. We all heard some terrifying stories of domestic abuse, rape and cruelty. During our women's conferences in both countries we also divided the women into small groups so they could open up about their pain. Below you can see one of those groups. Most women in this part of the world are never given a chance to share openly about what they have endured. Tears flowed, but the Holy Spirit brought incredible healing!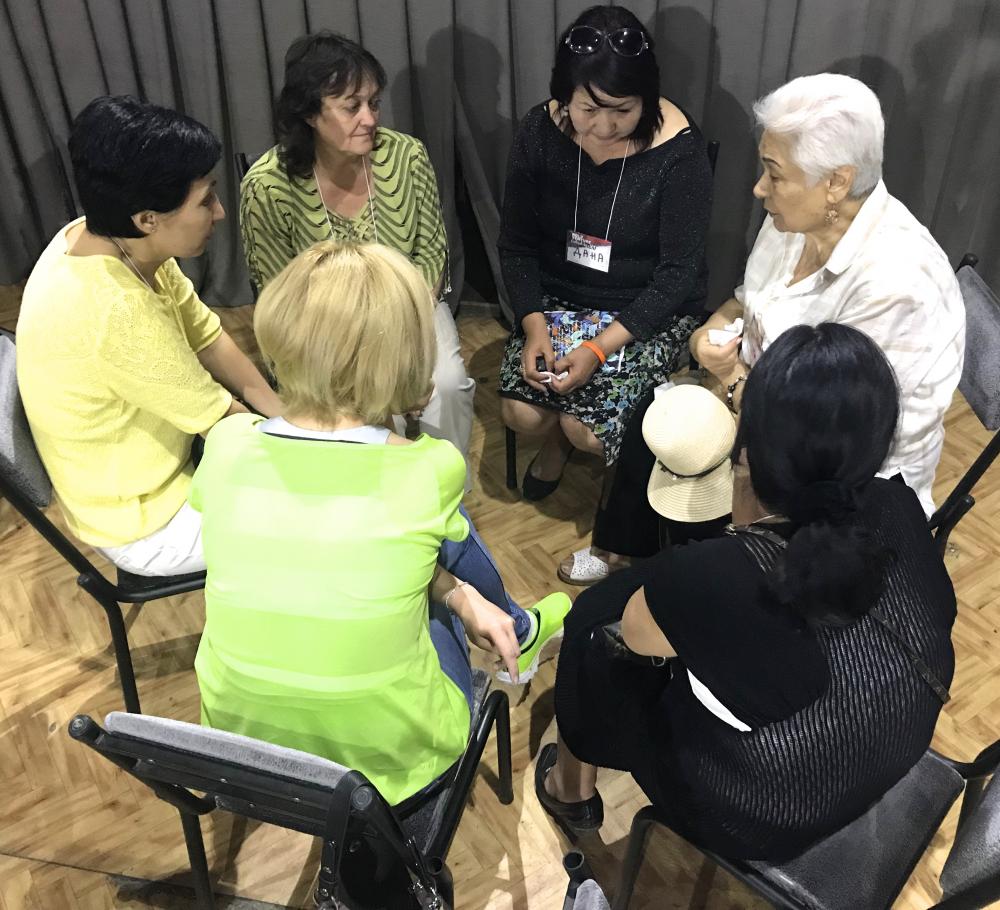 I have learned over the years that we will never stop the abuse of women if we don't heal the hearts of men. So in both countries we organized daylong men's retreats so that we could teach on sexual purity, how to be healed of father wounds, and how to treat your wife in a Christ-like way. Many men in this part of the world lack positive male role models. Many did not have fathers in the home. And the culture has even taught them that forceful abduction of women (along with rape) is acceptable. So I confronted these cultural lies head-on and we offered plenty of opportunities for repentance and prayer. It felt like chains were falling throughout these events! Below you can see the group of men who came to the first retreat.
There is definite spiritual hunger in this part of the world. Even though there has been government-sponsored oppression of religion, people want God. In the photo below you can see a group of men from a city that was 14 hours from our conference. They drove all the way there for four days to receive spiritual instruction and impartation. And their pastor is begging us to come back next year to his city!
We also had two pastors' conferences. In the second country, the pastors' event was held for two days in a beautiful lakeside retreat center. We focused on marriage issues because so many marriages in this region are struggling because of male dominance and cultural traditions. It was like plowing through rock the first day! I taught on the need for verbal affirmation, the importance of forgiveness and the biblical principle of equality in marriage. By the end of the second day, men were repenting for domestic cruelty, opening their hearts about their pain and saying "I love you" to their wives for the first time. Below are some of the 100 leaders who attended the second retreat.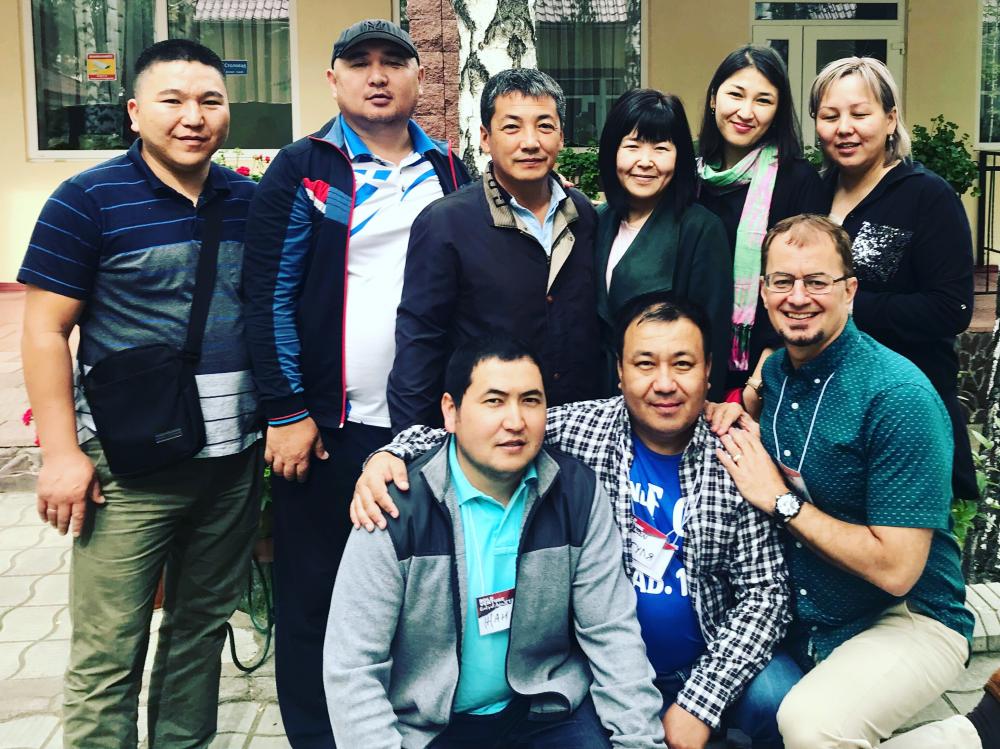 Below you can see Ulan Karypov praying for a man to be healed of his father wounds. This was one of the most important things that happened in our events. God gave men the freedom to admit how they were hurt—through their fathers' abandonment, abuse, alcoholism or lack of affirmation. God turned the hearts of the fathers to the children, and the hearts of children to the fathers. The men also repented publicly for the way women have been mistreated in the home and by the culture. By the time we left, it felt like the hard ground had been plowed and many seeds were sown for a spiritual transformation.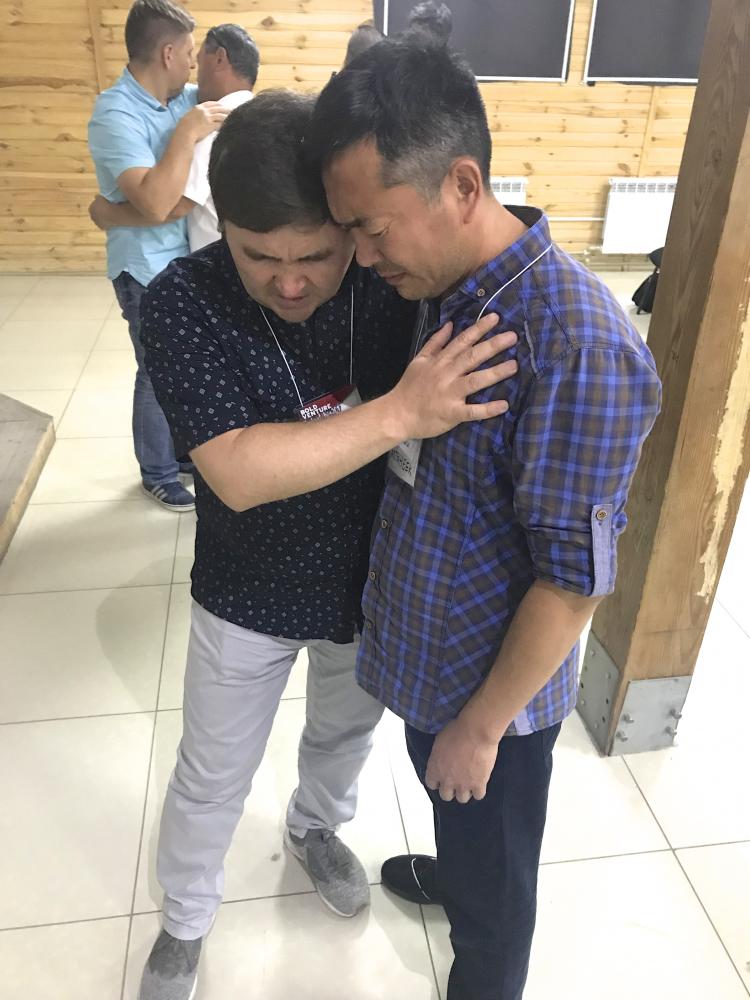 Thank you so much for praying for this important mission. We were also excited to learn that the traditional practice of "bridestealing" (the kidnapping and rape of a potential bride) has been officially outlawed in the second country we visited. I believe this is a sure sign from God that our work is making a difference! We are rejoicing that spiritual strongholds are falling.
Please continue to agree with us for the following:
** My mother is still deteriorating in terms of her mobility and cognitive function. I appreciate your prayers for her as we navigate decisions about her care.
** I will be speaking at the Global School of Supernatural Ministry in Pennsylvania from June 18-19 and then I will be speaking at Good News Church in Augusta, Georgia on Sunday, June 23.
** Please pray for clear direction for our daughter Margaret and son-in-law Rick as they make important decisions about their ministry.
** Please agree for our project funds. I need $900 for my upcoming Guatemala mission and another $1,400 for the Sri Lanka trip in late July.
Thank you again for your partnership. We so need your prayer covering. The battle has been intense. We are indebted to all of you! Please let us know if there is anything we can agree with you about in prayer.
Lee and Deborah Grady
The Mordecai Project
P.O. Box 2781
LaGrange, GA 30241
ABOUT US
---
The Mordecai Project is a Christian ministry devoted to empowering women, confronting abuse and transforming nations through the power of the gospel of Jesus Christ.
DONATIONS
---
All gifts are tax-deductible. Secure online donations can be made at our website themordecaiproject.org/donate
Checks can be made out to The Mordecai Project and mailed to:
The Mordecai Project / Bold Venture Ministries
P.O. Box 2781
LaGrange, GA 30241:
BOARD OF DIRECTORS
---
Rev. Matt Judd
Good News Church
Augusta, Georgia
Chris Revells




Pickens, South Carolina
Rev. Luis Roig




Casa del Padre




Trujillo Alto, Puerto Rico
Rev. Eddie Taylor
Rev. Beth Taylor




Taylor Ministry Group




Deland, Florida
Re. James Graham




International Gospel Outreach




Semmes, Alabama
Rev. Dee Mueller




The Hearth Ministries




Blairsville, Georgia
OTHER ADVISERS
---
Rev. Barry St. Clair




East West Ministries




Lilburn, Georgia
Rev. Doug Beacham




Bishop, International Pentecostal Holiness Church




Oklahoma City, Oklahoma
Rev. Chris Maxwell




Campus Pastor




Emmanuel College




Franklin Springs, Georgia
Rev. David and Angela Munizzi




Catalyst Church




Orlando, Florida
Barry and Myra Goldfarb




Deland, Florida
Mimi Haddad




President, Christians for Biblical Equality




Minneapolis, Minnesota

 
Rev. Quentin Beard




Sioux Falls First Assembly




Sioux Falls, South Dakota

 
The Mordecai Project / Bold Venture Ministries, P.O. Box 2781, LaGrange, GA 30241, United States